Monthly Archives:
January 2014
It's no secret that I love wine; red, white or sparkling. I'm your girl. While this might be true for most women, what do my close friends and I do so we have an excuse to drink more of it more often? Start a wine club, naturally.
I posted from time to time on instagram about our tasting journeys throughout 2013 but nothing too in depth. It's for fun – sure, I love learning about fine wine especially after my Napa trip (can I go back now please?), but wine club is another excuse to have scheduled gossip sessions over delicious flights and cheese + charcuterie boards.
Now, who can argue with that?
Guide to Starting Your Own Club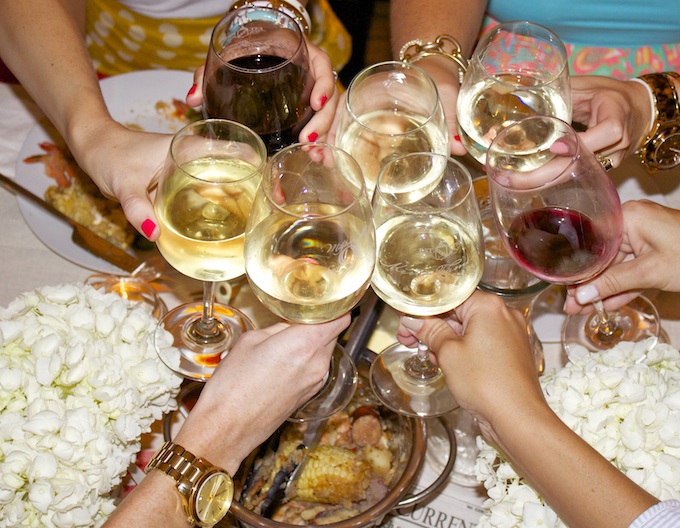 1. Think of a fun name. 
We like to call ourselves "District Vines" (or #DV) because well, we all live in the District aka your nation's capital. We call our meetings; "tastings".
2. Keep it small. 
We have 4 "founders" and each month, we each invite one new guest to join us so there are always 8 ladies tasting. Plus, it's hard to make a reservation for groups larger than this (and hard to coordinate schedules..more on that later). We also make it a point to invite new friends, coworkers and people that may not know one another otherwise. At least we'll have one thing in common; love of wine, right?
3. Take turns playing "hostesses".
Every month, one of the founders is in charge of "hosting" wine club. This simply means picking the wine bar or restaurant (no repeats), arranging for reservations or special accommodations. Some spots love the idea of our wine club and will go out of their way to make the evening extra special. While we try to stick to places that offer "flights" of wine; it's not always necessary and some venues are happy to whip some up on the spot! This could also mean "hosting" at your own home with a specific theme in mind. For example, I could chose "Spanish Wines" and everyone shows up with a bottle to taste and sip on throughout the night.
4. Plan trips.
What is exciting about our club is that new guests are included each month and now that it's over a year old, we've acquired quite a alumni list. So, with this in mind, we have decided to plan 2 yearly vineyard trips to nearby wineries and invite all previous guests to join. These will take place in the summer and fall and allow us to switch it up a bit on an excursion.
5. Schedule tastings in advance.
As you can imagine, when you have founding members that have anything-but-9-to-5 jobs, super type A personalities, beaus to attend to and 50 other organizations they're involved with; finding time to get together even ONCE a month is a challenge. So for 2014 – we all got together and picked out dates for the rest of the year (all on Mondays). No excuses. No dream guy or mani-pedi date is allowed to trump wine club this year. We'll see how this goes…
6. Have fun.
Sure, you might learn a thing or two but what's truly important is the company. Oh and if you do have a date afterward; you might want to bring along a mini toothbrush (#wineteeth).
Cheers!