Happy Monday! I've been traveling all over the place the past few weeks so I'm having my sister, Megan Elizabeth, take over H&T today to share some of her wedding details below.
From MEC
I found the wonderful Hippie's Homemade Candles at the Hyde Park market one Sunday in Tampa, and immediately fell in love with her scents/overall product "look". Every detail..from the mason jars to the kraft colored labels, and even the names of the soy candle scents like Breath Easy, French Market, and Peach Mimosa, just to name a few. I loved it all! My husband and I first bought Breath Easy and although we went back to try several other scents that were beyond delicious, I was never able to choose one that I loved more.
A little more about why these candles are so great in the words of the owner, Krista (aka Hippie)- "My candles are made with pure soy wax to ensure a clean burn, and scented with the highest quality (phthalate free) oils to fill your home with its delicious fragrance, but without the headache you can get from other fragrance oils."
When my husband and I were deciding on a wedding favor, we wanted it to be very "us", just like every other detail of our big day. We wanted to gift our guests with something that we would personally want, something that we would love as a gift.
And we realized..what do we like more than candles? We light one or two every single evening. More specifically, what's our favorite candle? Easy! Breath Easy by Hippie's Homemade Candles was the first one that came to mind.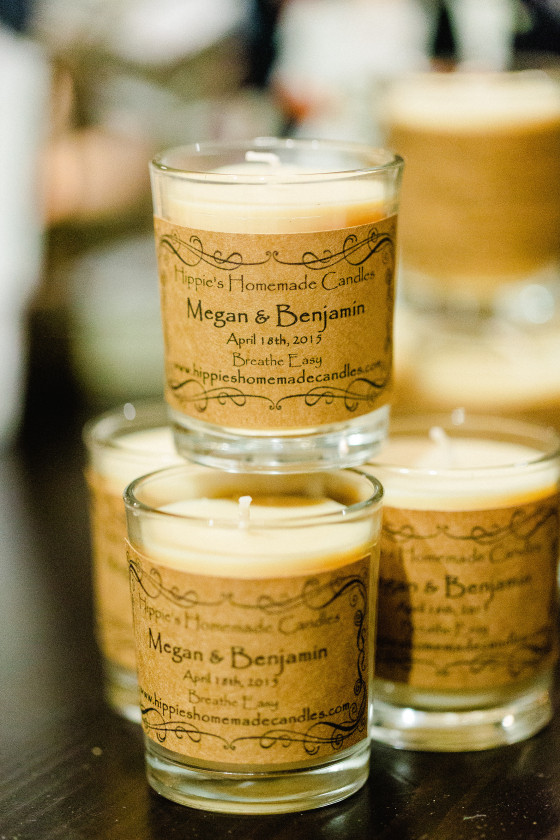 The market happened to be coming up so I figured I'd wait to chat with Krista in person, and I'm so glad I did. She agreed to do our wedding favors, gave me some info on where to find some simple and affordable votives for her to fill, and then she got straight to work. She customized our wax color (an ivory/beige) and we chose the scent. She even included labels with our names and wedding date and had our order ready in plenty of time..putting me at ease and allowing me to check one more thing off my to-do list! Everything was perfect and I have received so many compliments on them since the wedding! She truly brought our wedding favor vision to life and our guests enjoyed ending the evening with this calming scent.
Thank you Krista for your beautiful product and amazing work!
xoxo
MEC