Monthly Archives:
November 2013
When you first hear "macarons + mimosas", you might think springtime, bridal showers or even Easter brunch. Now those are all quite appropriate occasions to indulge in macarons and sip on mimosas, but may I suggest a fall spin?  I did just that this past weekend at the Dagne Dover event I hosted at Urban Chic and it worked just as well so I had to share with you below.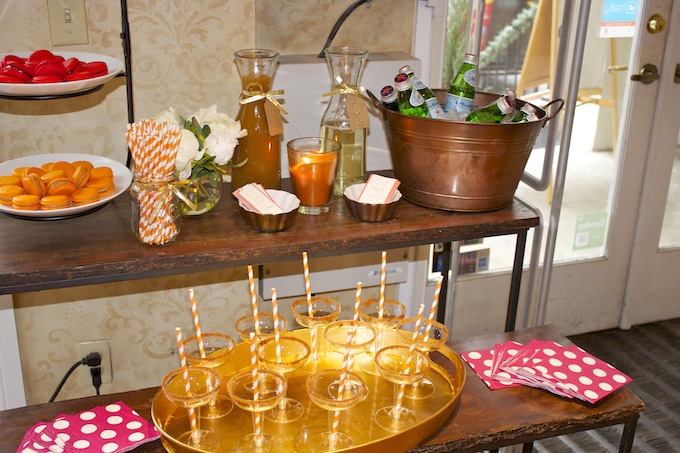 Apple Cider Mimosas
These are similar to the Apple Cider Bourbon Mimosas I posted earlier this season (sans the bourbon and fancy garnishes).
Ingredients: 
2 parts Bubbly
1 part Apple Cider (fresh or store bought)
Dash of Cinnamon
Few pinches of Sugar
Orange Juice (for the rim)
Directions:
This cocktail mix is all about the taste and there are no formal measurements involved (read: easy).
Dip the rim of the glass in a bowl of OJ and then into the cinnamon sugar mixture.
Fill each glass 3/4 full of champagne (more or less, up to you!)
Add a splash of apple cider.
Voila!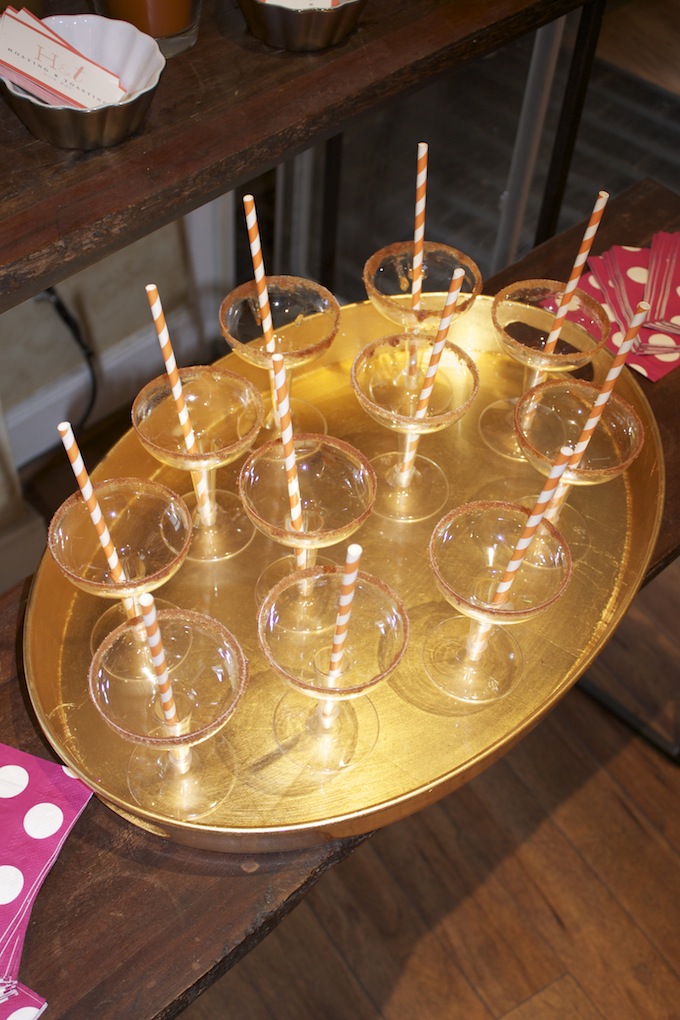 Fall Macarons
For this occasion, Macaron Bee was sweet enough to send some treats our way to enjoy. However, whether you're picking out flavors or making your own, chose ones with fall flavors in mind. We had pumpkin spice and raspberry macarons which were also orange and pink to match the overall color scheme of the day.
P.S. Pumpkin Spice Macarons = mini pumpkin pies, delish!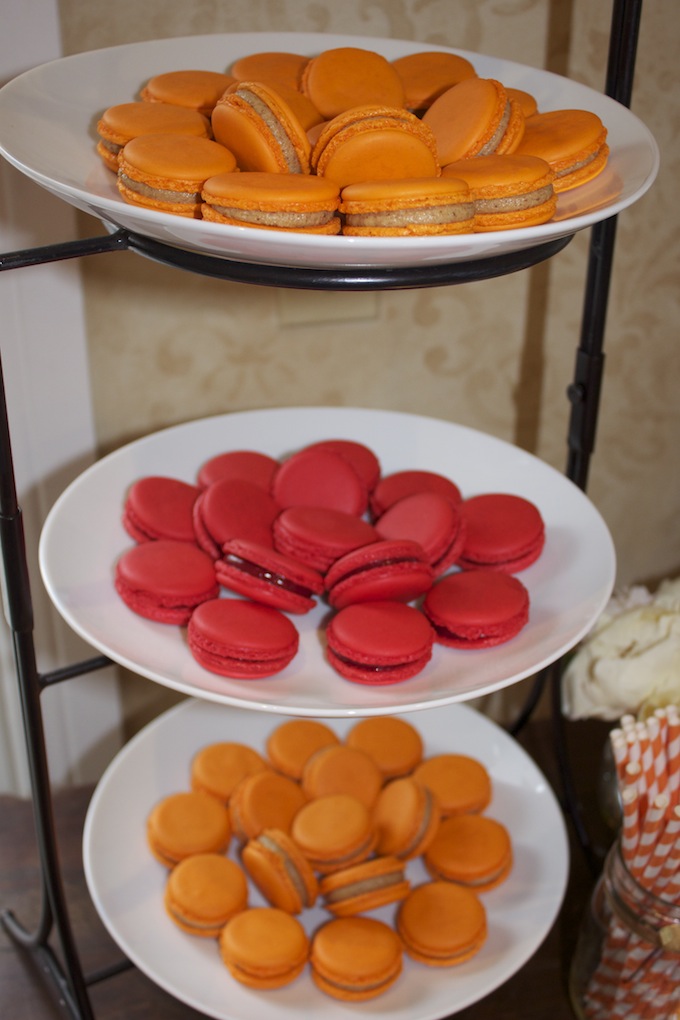 The Details:
As you might of guessed, this is my favorite part. You can find delicious recipes for drinks but it's really the details that can leave a lasting impression on your guests while pulling it all together. Below are a few tips that I used for the day but they really can be applied to any celebration you host to make your guests feel that much more special. Oh and the pretty presentation doesn't hurt either.
1. Presentation + Containers: I used glass carafes for the bubbly and apple cider and set up a mimosa bar complete with a cinnamon + sugar in glass bowls. Simple things like pouring the champagne out of its bottle and apple cider out of the pot (or store bought container) make it so much more pleasing to look at. I also used a copper ice bucket for waters, this gold serving tray for the drinks, mason jars for straws and a tiered stand for the macarons.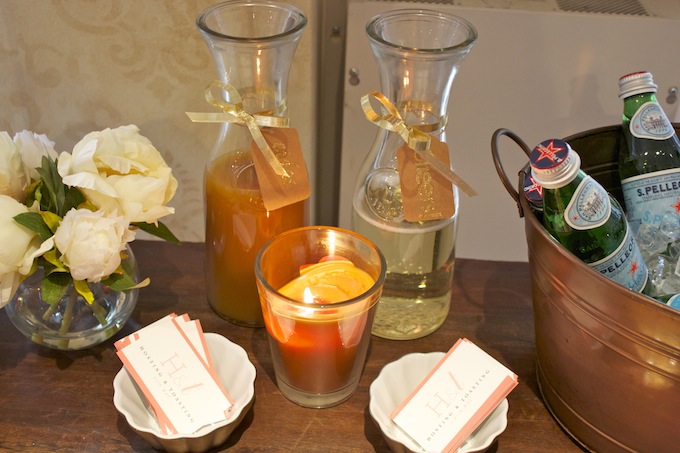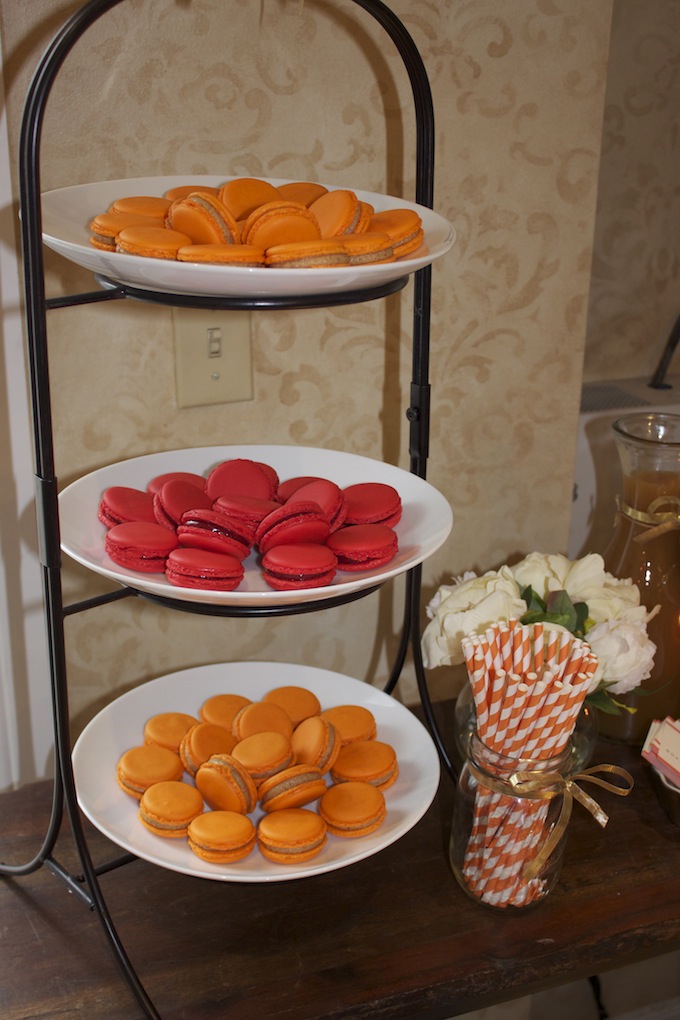 2. Party Supplies + Colors: If you keep your color scheme simple (1-2 colors, 3 at most), it makes purchasing supplies easier too. I chose pink and orange with accents of gold for this day. It was bright and playful but also tied in the drinks and macaron colors. For party supplies, pick items with your theme in mind too. Just like with apparel, prints + pattern mixing is totally appropriate. I chose pink polka dot cocktail napkins and used orange striped paper straws from my fave: Swoozies (it's safe to assume I have used just about every color of these now).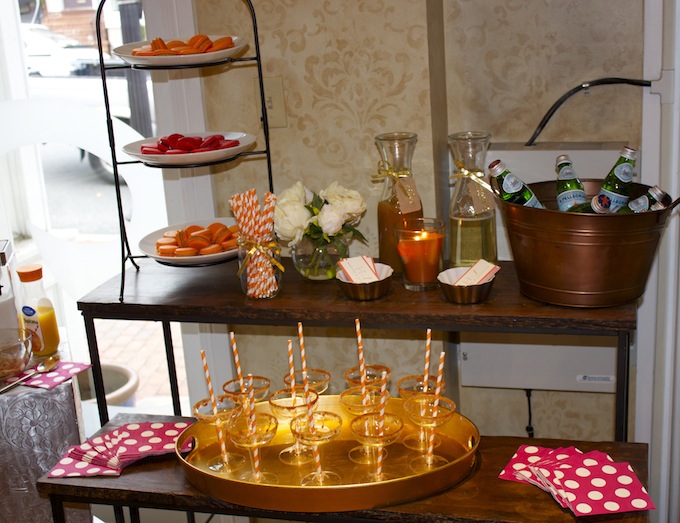 3. Labels: Labeling items on display is also a great way to add a little something more to any presentation. This can go beyond placecards  on dining tables and buffet items. I tied on gift tags that read "cheers" and "cider" to each of the carafes on the mimosa bar. I also used chalkboard labels for my sugar container.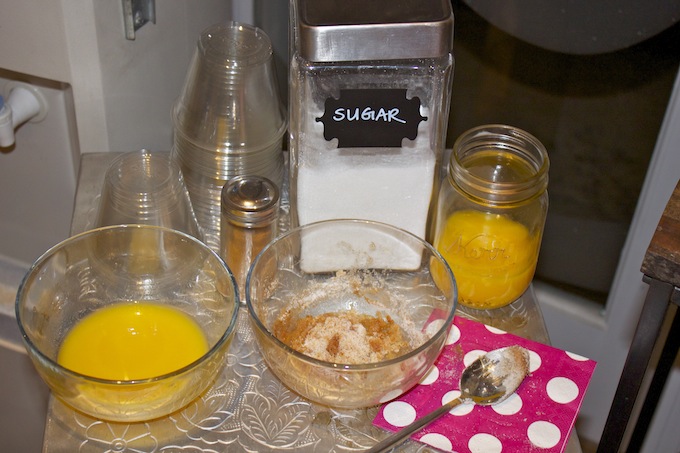 3. Finishing Touches: Last but certainly not least, the "finishing touches". Add candles (I used a pumpkin spice one), fresh flowers (peonies) and bows around carafes, mason jars and wherever deems appropriate.  At the last minute for this occasion, I decided to purchase mini sparking san pellegrinos. I play by the rule that even when everything is checked off my list, there is normally one last detail left that might of slipped my mind. In this case, it was the waters. This is the type of detail that you might not think of at first but one that is greatly appreciated later by guests and makes sure nothing is left unnoticed.
So before we move full swing force ahead in the holiday posts, here is one last theme that is fitting for celebrating a fall birthday,  hosting a book club or shower, brunch with the girls or "just because". Try it out! Let me know how you decide to use it!